The Creative Hand Studio
 Painting, mixed media, and note card reproductions of pastels.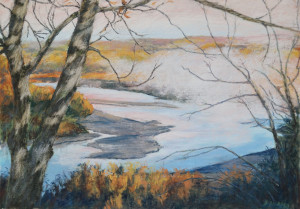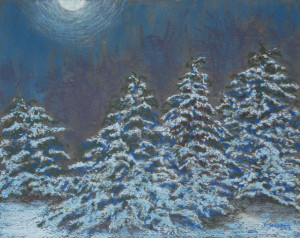 Artist Biographical Statement
All things concerned with water is the subject of Barbara's current series of work created in soft pastels and mixed media. Changing seasons along the Kansas River where she lives, water patterns, rushing streams, lochs (lakes), and tide pools are the intriguing subject matter she is exploring. Her distinctive double, free-standing collages combine various media, including pastels, acrylics, and oils with found objects such as wood, stones, bones and shells. Sets of note cards with reproductions of her pastels will be available to purchase too.
Barbara is an award-winning artist who has been making art all her life. She has had many solo exhibitions state-wide and has shown work in juried exhibitions nationally. A graduate of The University of Kansas (KU), she teaches drawing, pastel and mixed-media classes in her studio and also teaches for the KU Osher Institute. A lovely country drive will take you to her home and studio atop a bluff overlooking the Kaw to enjoy fantastic art, great conversation and refreshments.
Location & Hours
Location: 35 N 2190th Rd., Lecompton, KS  66050
— 25-minute drive west of Lawrence along Kansas River bluff. Look for our wildlife gate to enter.
Directions: Enjoy a lovely drive in the country and see a fantastic view of the Kansas River.  Take 6th St./Hwy 40 west of 6th & Wakarusa for about 15.6 miles (or west of downtown for about 19.3 miles); turn right onto Green Rd. and head north for 0.4 miles to a T-junction; turn right onto 2nd St. which becomes 2190 Rd., and head east for 2.8 miles until you see Barbara & Tom's metal wildlife gate on the south side of the road. About a 25-minute drive from 6th & Wakarusa. Look for ArtWalk signs.
**Also at this location is Tom Schmiedeler
Saturday Oct. 24: 10 am – 6 pm
Sunday Oct. 25: 10 am – 6 pm
Website & Contact Info
Website: The Creative Hand Studio
Email: [email protected]