An Interview with Jen Unekis
By Umut Bayramoglu
Jen Unekis's paintings in acrylic, graphite and China pencil on board feature playful colors, sketchy lines and layers with heavy defining brush strokes, "sometimes brave and sometimes tentative." She likes to talk about her work in terms of "how nice a piece was to me" while making it. "Some pieces come together smooth, like butter. Others give you a fight," Jen says. "Sometimes you have to destroy a piece to find its purpose, but when a difficult piece finds its place in the world, that's a nice feeling."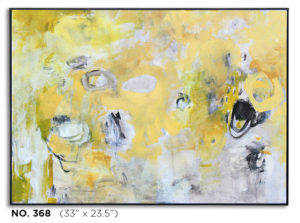 Jen was born in Los Angeles, but when she was four, the family moved to an abandoned farmhouse in a rural area north of Topeka. She remembers loving the rusty farm equipment and the texture of the many layers of painted plaster and wallpaper. "Many of those same elements still attract me in my painting," Jen says. "A fine crumbling cracked line, a broken edge, a burnished surface with accidental combinations of textures and layers of color." Working in acrylic, oil-stick and graphite on board, she continues to be inspired by the unexpected. The pooling of color up against an inky line, or the way fine sketchy graphite marks "can be obscured by paint, yet still hold the gazer's interest." For Jen, images that feel out of place in a literal world "find their place in the world of abstraction," and a good piece is one that knows all of its off-balance flaws and embraces them.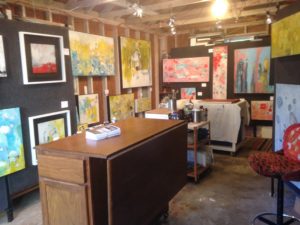 Jen describes herself as a deadline-driven artist and says she creates some of her best work when pushed against a deadline. She is still inspired by ceramics and often goes to Sarah's Fabric for color inspiration.
The anything-goes style of the Lawrence art scene is what Jen admires about her community of artists and she hopes the local patrons will broaden their support in the coming years. She loves ArtWalk for the opportunity "to invite the public to sit down in our studios and homes, drink a cup of coffee and talk about art. See where we live and create."
A longtime veteran of regional events such as Art in the Park, the Plaza Art Fair, Art Westport and Brookside Art Annual, Jen thanks her husband David for keeping her organized during the outdoor art-fair experience: "If I didn't have him, I would end up throwing everything into the van and piling everything on top Jed Clampett style."
After art shows, Jen likes to relax with her family, watch a movie or go for a walk. "It can be hard to do something calm like read, because I am too ramped up," she says. "We usually have a celebratory dinner a day or two after a big show."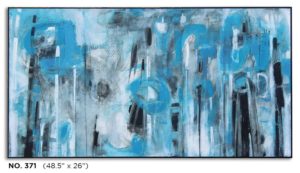 Usual haunts include Ramen Bowl, Global Cafe, Terrebonne, Merchants and Papa Keno's.
When asked about her most unusual art transaction, Jen described a patron who clearly enjoyed a few cocktails before strolling booths at the Plaza Art Fair. "I hoped that she didn't have a moment the next morning, where she rolled over in bed hung-over, regretting what she had taken home the night before," she quips.
You can visit her at her bungalow during the 2017 ArtWalk. She promises not to ply you with too many beverages!