Ceramics (functional & sculptural)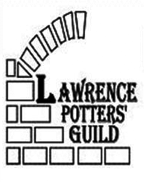 Participating Artists
Kelly Pinet
Sherri Hannah
Chris Arensdorf
Toni Dixon
Michelle Rogne
Belinda Baker
Linda Hixon
Aaron Riffel
Larry Brow
Patty Young
Chuck Watson
Guild Artists participating in the Lawrence ArtWalk but are located at other studios: Melanie Harvey & Anne Egitto
Biographical Statement 
The Lawrence Potter's Guild is a group of ceramic artists who get together to promote, sell and enjoy the art of clay. The are made up of a variety of potters with as many different artistic explorations.
Location & Hours
Location: Brackers Good Earth Clays 1831 East 1450 Road, Lawrence, KS 66044
–Plenty of parking, Brackers is located north of the river.
Saturday, Oct. 22: 10 am – 6 pm*
*Pottery demos all day
Sunday, Oct. 21: noon – 6 pm**
**Pottery demos from 1 pm – 3 pm
Website & Contact Info
Facebook: Lawrence Potters' Guild
Email: [email protected]