Sophia's Silks & Textile Arts
Mixed media (2-D), Fiber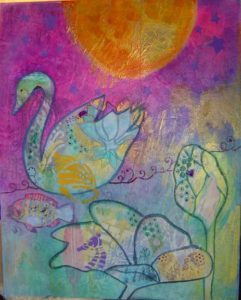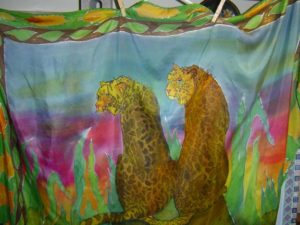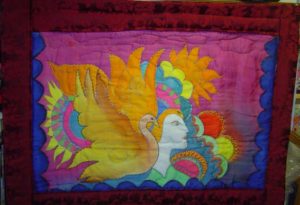 Artist Biographical Statement
Sophia Compton has been fascinated with the textile arts for 30 years.  Her interests include silk painting, cloth dying, felting, thread painting, quilting and using mixed media elements with her fabric arts, including acrylic and paper. She lived in a craft commune for 15 years and is a self-taught artist within that context. She has taught classes at Maker-space and the Senior Center and currently teaches through the Lavender House.  She retired at Babcock Place four years ago and her one-woman show is in the Babcock lobby during the month of October.
Location & Hours
Location: Babcock Lobby, 1700 Massachusetts Street, Lawrence, KS 66044
–Parking on street, 17th and Massachusetts, just 8 blocks from downtown.
Friday, Oct. 21: 5 pm – 9 pm
Saturday, Oct. 22: 10 am – 6 pm
Sunday, Oct. 23: 10 am – 6 pm
Website & Contact Info