Stephen T. Johnson Studio
Painting, drawing, mixed media (2-D).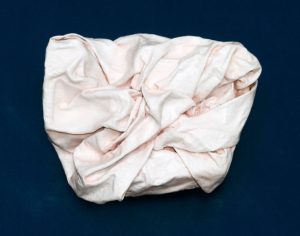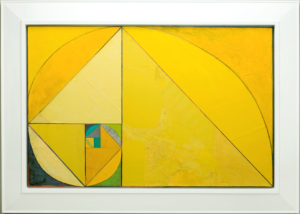 * "Packed into this panoramic picture are: Pancakes. Potato chips. Pencils. Pale pink paper clips. Photo-realistic peas. Peanuts. Popcorn. A pinwheel. A plug. A plastic peeing putto. A portrait of a parrot in profile. A pen point. Polka-dots. Peacock feathers.  Puzzle pieces. Purple paint pouring, pouring…period!" – Caption from the series An Abstract Alphabet
** "White waxy wall hangings, wrinkled and wavy—one wonders what's within." -Captionfrom the series An Abstract Alphabet
*** "Gradations of green, gray, and gold geometric groupings rendered with gouache, graphite, glitter, granulated gunpowder, and glue generate glimpses into golden ratios and the gamut of Greek thought." – Caption from the series An Abstract Alphabet
Artist Biographical Statement
Stephen T. Johnson's visually arresting and conceptually rich body of work, forges connections between words, objects, and ideas. His art spans a broad range of concepts and contexts and can be seen in site-specific public art commissions, gallery and museum exhibitions, and original award-winning children's books such as Alphabet City, a Caldecott Honor, Society of Illustrators Gold and Silver Medals, and a New York Times Best Illustrated book of the year.
His drawings and paintings are in numerous private collections including those of musician Pal Simon and actress Cherry Jones, and in the permanent collections of Carnegie Mellon University in Pittsburg Pennsylvania, the New Britain Museum of American Art in Connecticut, and the National Portrait Gallery at the Smithsonian Institution in Washington D.C. Among his public art is a 70-foot mosaic mural at the DeKalb Avenue Subway Station in Brooklyn New York, a 60-foot mosaic mural at the Universal City Metro Station in North Hollywood, las Angeles California, and 33 glass panels for the Dallas Love Field Airport, in Dallas Texas.
Location & Hours
Location: 720 East 9th Street, No. 5, Lawrence, KS 66044
Saturday, Oct. 22: Noon – 8 pm; public reception from 5 pm – 8 pm.
Sunday, Oct. 23: 1pm – 5 pm
Website & Contact Info
Website: Stephen T. Johnson
Email: [email protected]