The Little Pottery Venture
Ceramics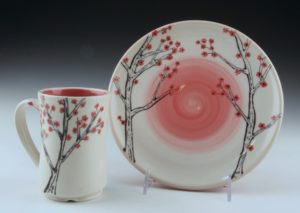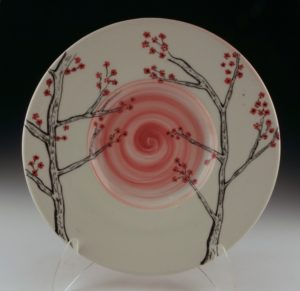 Artist Biographical Statement
Anne Egitto moved to Lawrence, Kansas in 2008 to work on her doctorate degree in anthropology. She began selling her pottery in 2009 and received professional encouragement by being accepted into the 2012 Orton International Cone Box Show. She completed her doctorate degree in 2014 and now teaches college part time while keeping busy in the role of director of the Lawrence ArtWalk.  Anne creates functional pottery using porcelain and stoneware.  She is currently hand painting six different motifs and experimenting with wax resist decorations and decals. She will have new work/designs available for ArtWalk.
Location & Hours
Location: 1019 Delaware Street, Lawrence, KS 66044
Studio 3D is across the street from Hobbs Park in East Lawrence. Look for the red door.
** Also at this location are Margaret Rose and Diana Dunkley
Saturday, Oct. 28: 10 am – 6 pm, Public reception: All day during ArtWalk hours
Sunday, Oct. 29: noon – 6 pm, Public reception: All day during ArtWalk hours
Website & Contact Info
Etsy Shop: Little Pottery Venture
Facebook: The Little Pottery Venture
Email: [email protected]