Creative Hand Studio
Painting & mixed media 2-D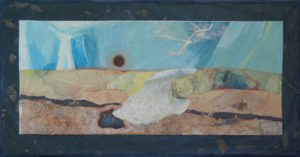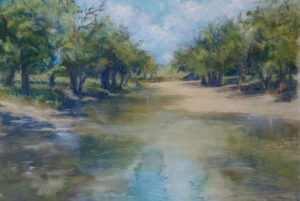 Artist Biographical Statement
The power of the landscape to inspire, renew and regenerate our lives is apparent in Barbara's current series of work in mixed media and soft pastels. Impressions of the nearby Flint Hills, seasons along the Kansas River where she lives and intimate views of nature are the intriguing subject matter she is exploring. Her distinctive double-sided collages combine various media with found objects.
Location & Hours
Location: 35 N. 2190 Rd., Lecompton, KS 66050
This location is a lovely country drive -25 minutes west of Lawrence. From 6th & Wakarusa take highway 40 west for about 15 miles; turn right on Green Rd., go north for 0.4 miles to a T-junction; turn right (east) onto 2nd St. which becomes 2190th Rd. Drive for 2.8 miles until you see our metal wildlife gate on the south side of the road. Steep driveway, use low gear.
**Also exhibiting at this location is Tom Schmiedeler
Saturday, Oct. 28: 10 am – 6 pm
Sunday, Oct. 29: 10 am – 6 pm
Website & Contact Info
Website: www.bsolbergart.com
Email: [email protected]