Art Emergency Artists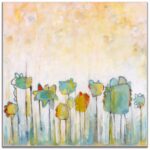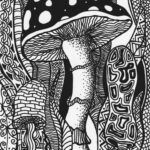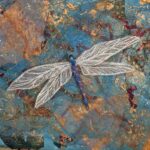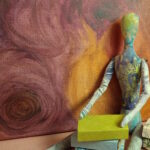 Also participating at this location is:  Justin Marable & Dustin Sypher
---
Yvonne Channel
Painting, drawing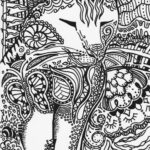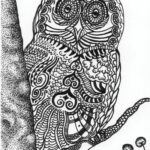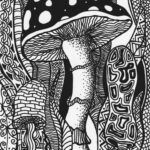 Yvonne Channel was born in Joplin Missouri in 1966.  At an early age, she and her family moved to Springfield Missouri.  Yvonne graduated from Hillcrest High School where, while studying under art teacher Suzie Jordan, she became interested in drawing and in stained glass. In 1990 she earned a Bachelor of Arts degree with an emphasis in Computer Graphics from Missouri State University. While at MSU, she first fell in love with painting in oils. In 1993 she completed her Master of Fine Arts degree in Computer Graphics at Pratt Institute in Brooklyn New York.
Yvonne returned to the Midwest, working for six years as an animator and video production coordinator at an educational software company in Pittsburg, Kansas. In August of 1999, she moved to Lawrence and found a job with another education software company in Kansas City.
Throughout her years of education, and despite her concentration on technology at work, Yvonne has continued to paint and draw. She uses these seemingly solitary recreational pursuits as both a personal creative outlet and as a way to connect with other artists.  Living in Lawrence Kansas has fueled her artistic inspiration and has provided opportunities to hone her drawing and painting skills. Yvonne's drawings capture a softness and vulnerability of the human figure.  Her expressionistic style of painting and her use of bright, earthy colors reflect her sensual approach to what she believes is an interaction between the artist and the medium.
---
Liz Campbell
Fiber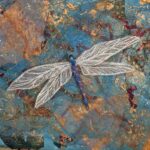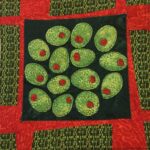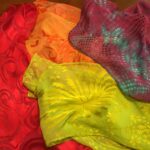 Liz Campbell is a fiber artist living in Lawrence, Kansas. She loves combining her love of sewing with her love of painting to create 2 and 3 dimensional works of art.  These works include her own hand dyed fabrics, commercial fabrics, quilting, pastels, paints, thread painting, and unconventional materials. Some of her favorite themes are flowers, insects, and abstracts.
Liz's Contact info: [email protected]
---
Marion Dyer
Fiber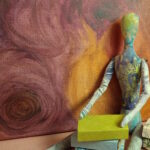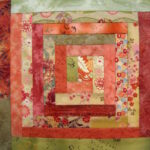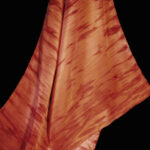 Creativity is more than art; it is wellbeing. It allows us to respond to what is, while not cutting off our dreams about what could be.
Marion Dyer was raised in rural Maine and has a degree in anthropology from the University of Kansas (the alma mater of her grandmother, Mabel.) Whiling away the hours, as a child in the back woods of New England, she stitched anything her imagination could come up with but didn't begin quilting until she was in college.
Marion's love of color, form, and cloth comes through in her elegant shibori silk scarves, elemental doll shapes, and zakka style art quilts and pillows.
Marion's contact info: [email protected] and website: M. Dyer Studio
---
Nan Renbarger
Fiber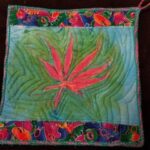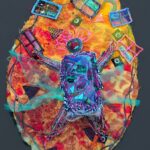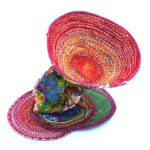 Nan was born and raised in Topeka but escaped its conservative clutches in 1968, landing in Lawrence to go to school at KU. Next thing she knew, she was wrapped up in artistic expression in the form of a wholegrain bakery. That earth tone palette morphed into vibrant color schemes used in fiberscapes" on and off the wall art, bags, vessels, and clothing. Nan colors most of her fabrics by dyeing, painting, printing, stenciling, stamping, and stitching. Spontaneity is precious to her as she is inspired by the world around her that is anything but static. As she follows her nose, her heart, her intuition up and down garden paths, trails, country roads, byways, and thought waves, the creative juices flow through her fingers onto the physical plane via fibers of every description.
Nan's contact info: [email protected]
---
Jen Unekis
Painting
Jen was born in California and moved to Kansas when she was 4. She was raised on a farm and moved to Lawrence to attend KU, and never felt the need to leave.
She currently has studio space at Art Emergency, and lives by the river with here husband David and daughter Adeline Grace.
Jen's contact info: [email protected] and website:  www.jenunekis.com
Also participating at this location is:
Justin Marable

Dustin Sypher
Art Emergency Location & Hours
Location: 721 East 9th Street, Lawrence
— Just east of 9th and Delaware Streets. Studio is a big green warehouse.
— Parking along the west side of the big green warehouse.  Entrance is street level and the studio has an ADA compliant bathroom.
Saturday, Oct. 12
Sunday, Oct. 13