Creative Hand Studio
Painting & mixed media 2-D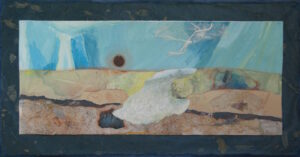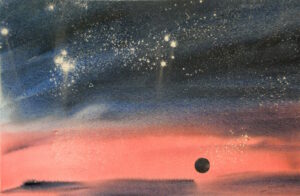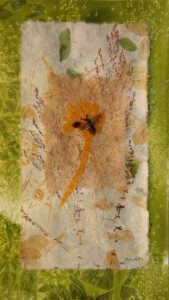 Artist Biographical Statement
As a landscape painter for many years, Barbara has sought to keep her work innovative and imaginative by trying new techniques and processes whether through painting in soft pastels, acrylic or oil, and with print-making. Aspiring to incorporate more texture, she began to use cut and torn paper in collage form, which, by its very nature, will produce abstract results. Gradually, she began including material and found objects such as stones, bones, or shells affixed to her work. On display will be pastel and mixed media landscapes continuing the Gaia theme of nature and environmental issues. Note cards also available for purchase. She has exhibited widely and won numerous awards for her work. She teaches classes for the Osher Institute and in her home studio. She lives with her husband, Tom Schmiedeler, and two cats in a home on a bluff overlooking the Kaw.
Location & Hours
Location: 35 N. 2190 Rd., Lecompton, KS 66050
This location is a lovely country drive 25 minutes west of Lawrence. From 6th & Wakarusa take highway 40 west for about 15 miles; turn right on Green Rd., go north for 0.4 miles to a T-junction; turn right (east) onto 2nd St. which becomes 2190th Rd. Drive for 2.8 miles until you see our metal wildlife gate on the south side of the road. Steep driveway, use low gear.
**Also exhibiting at this location is Tom Schmiedeler
Saturday, Oct. 13: 10 am – 6 pm
Saturday Demo: 2:00 – 2:30 p.m. – Mixed Media demo by Barbara
Sunday, Oct. 14: 10 am – 6 pm
Website & Contact Info
Website: www.bsolbergart.com
Email: [email protected]