An Interview with Celia Smith
By Umut Bayramoglu
Celia Smith is a storyteller, a narrator of life through sketches and paintings. Whether she depicts animals or plants, human beings or notable historic events, she captures and conveys both the spirit of her subjects and the feelings she has about them.

Born Celia Muñoz Bueno, in Málaga, Spain, she took up sketching early in life. "My sister and I would draw the sketches of the little kids from the village," she says of her beginnings in art.
But she would not study art at the University of Madrid, because her older sister was already pursuing an art degree of her own.
"I wanted to be independent, I did not want my art to be influenced by hers," she explains. Instead, she studied history and history of art.
It was there that she developed a passion for 13th and 14th century medieval art, Picasso's Blue Period and Van Gogh. Of Van Gogh she says, "his colors are wonderful," and "the way he transmits his suffering is special."
So, how does a young woman from the southern coast of Spain end up in Lawrence, Kansas? Well, with a fascinating international adventure that spans many states and countries, of course.
Celia first got a scholarship to study at Bryn Mawr College in Massachusetts. She met her husband Robert Smith in Boston, while he was writing a novel. Then, Celia had to go back to Spain to work for the Boston Christian Education of Girls, and Bob followed her. They married and lived in Rota, where Bob worked on the construction of the U.S. Naval Station and where she returned to her art.
"I had a very good maid that did everything for me, so I had nothing to do. I started painting on muslin and it was a friend that suggested that I try acrylics," she says. "I had initial success and even sold a couple of pieces."
The Smiths then moved back to the U.S., living in a variety of places, including Washington D.C, Albuquerque, and Bloomington, where Bob continued his studies and eventually earned a Ph.D. in anthropology from the University of Indiana.
"In those early years in the U.S., I didn't have time for art, I had to cook and clean," she says matter-of-factly.
Bob's dissertation and fieldwork then took them to Oaxaca, Mexico, and Otuzco, Peru, before he started his career as a professor at the University of Kansas.
It was here in Lawrence in 1968 that Celia went back to painting and immediately started participating in local art shows such as Art in the Park.
"I was very lucky in Lawrence, I sold a painting at my first show here. That's not a common thing; usually artists have to build their reputations over time," she says. "People liked my style and I started getting some commissions."
Celia describes her style as something "that starts from life, as my mind can never have the richness of life."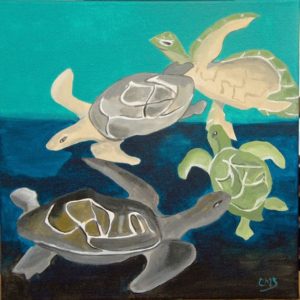 She sketches from nature and people, and composes paintings that tell stories, or impart feelings or ideas. Her commission work has varied from portraits of people and families to depictions of history such as the Lewis and Clark Expedition and the famous novel "Don Quixote" by Cervantes.
Her process for those paintings resembles the work of an investigative journalist. For the portraits of people, Celia interviews the subjects or talks to friends and the family of the person being memorialized.
"I call them portraits of the soul," she says. "It's not just about the physical attributes—there is a lot of symbolism in them."
For "Jefferson's Dream," Celia and Bob traveled the entire Lewis & Clark trail, and for her Don Quixote piece, "Imaginations," they followed the footsteps of Cervantes in the small towns near Madrid, including Consuegra, where the famous windmills mentioned in Don Quixote are located. Celia would sketch for days, sometimes months, collecting the images that would eventually form her paintings.
Over five decades, Celia has been an active participant in juried shows and art fairs across the country, and has received numerous awards and prizes for her work.
One of her favorite shows was EXPO '92, for the World Exhibition in Seville, Spain, for which she was commissioned to submit three pieces depicting Kansas City's sister-city relationship with Seville.
"They made t-shirts of all the art, you know?" she says, laughing. "I think I still have the shirts in a closet somewhere."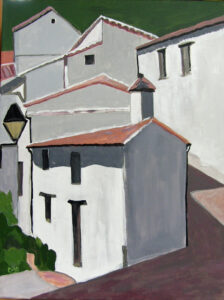 Celia and Bob had not intended to stay in Lawrence for more than a couple of years. "That was the common thing in academia back then; teach at one university for a couple of years and move on to the next job," she says. "But we liked it here and stayed."
They still live in the classic mid-century split-level home, which was among the first built in the Indian Hills neighborhood. Celia's studio is an add-on to the east side of the home.
While she no longer travels out of state for art shows, she is still an active participant in many of the local shows like ArtWalk, which she has done since its inception.
"I used to do it all, but it's a lot of work," she says. "Now, I have to ask for too much help, so I stopped. It's just a fact of life."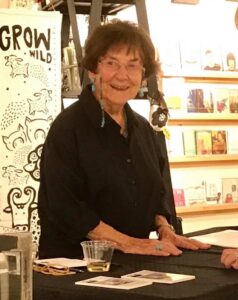 She also continues to participate in the annual Bizzare Bazaar, of which she says, "I love that show. I love all the creative things people do there!"
You can visit Celia at her Indian Hills home at 907 W. 27th Terrace during Lawrence ArtWalk 2019, where alongside her art, you will have the opportunity to view her fantastic collection of pottery, textiles and other functional artifacts from her many adventures around the world.