Studio 3D
Mixed media (2D and 3D), Conceptual sculpture, performance and installation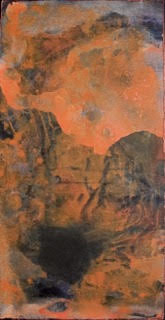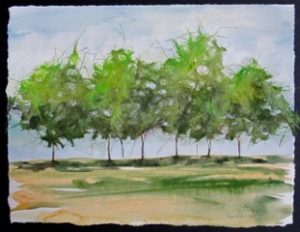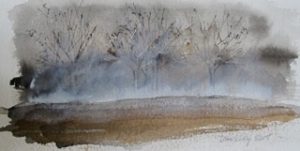 Artist Biographical Statement
Diana is a full-time artist, working out of Studio 3D since 1981. She exhibits artwork locally and internationally, working in a variety of mediums and styles including abstract and allegorical painting, mixed media, assemblage, watercolor, hand-pulled printmaking, sculpture, and installation/performance. Diana currently creates with two international collaborations: The Pleiades Project, a collaboration with three artists from Australia and four artists from the US, and "Middle", a collaboration with Scottish artist Anne Devine. In both collaborations, Diana will be developing performative work. Diana also teaches classes and workshops in watercolor and other painting mediums, printmaking, drawing, sculpture and mixed media, as well as working individually with artists of all ages, from children to adults. At the 2016 ArtWalk, Diana will be giving a free poster of her painting "South Park", produced by Bert Nash CMHC and Mainline Printing, with every purchase, no matter how small.
Location & Hours
Location: Studio 3D, 1019 Delaware Street, Lawrence, KS USA 66044
**** Also at this location are Margaret Rose and Cathy Tisdale
Directly across from Hobbs Park with plenty of parking. Look for the red door and ArtWalk signage.
Accessible from the alley if you bring your own portable ramp.
Saturday, Oct. 22: 10 am – 6 pm
Sunday, Oct. 23: noon – 6 pm*
* Diana will demonstrate creating Lace Paper Trees and other mixed media processes at 2:00 Sunday. A free poster will be given to each attendee!
Website & Contact Info
Facebook: Diana Dunkley at Studio 3D
Email: [email protected]