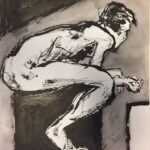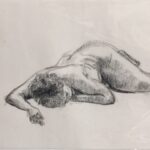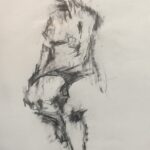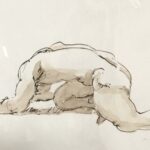 ---
Hobart Jackson
Valley Lane Studios

Jackson is a retired KU professor after 40 years teaching in the
School of Architecture. Educated at Princeton, Carnegie-Mellon, and
Southern Illinois Universities in engineering; graphic, environmental,
and photographic design; life drawing and fine art painting have
paralleled his teaching career. He co-founded with others of KU
ties, this life drawing group now known as the Valley Lane Artists.
---
Jane Fortun
For Jane, painting, particularly "Plein Air" (outdoors) is like meditation—
everything else falls away, and she is totally present in the NOW, a beautiful
 moment suspended outside of time. Any worry disappears as Jane becomes
completely absorbed in her work. This is the beauty of Plein Air painting!
Currently, Jane is enjoying the capturing of human form with the Valley Lane
Artists. This practice of life drawing is one of the oldest, ongoing traditions in
the world of art. It helps one to "see" and record the endless shapes and forms
of the human, in any medium the artist chooses. Jane's background is art school
in Boston, and night classes at RISD in Providence, plus national and regional
workshops.
---
Judy Paley
---
Ken Bini
---
Ted Johnson
Ted is one of the founding members of this life drawing group that
began meeting in the 1980sand continues today. He enjoys setting
down LIFE in drawings and how members of the group DRAW LIFE
out of each other. "Our drawings convey our lively celebration of life
in the studio." Professor emeritus of French, he taught French language,
literature, and culture, especially the interrelations of literature and the
arts in France. Additionally he taught Freshman Honors tutorials, and
Humanities courses, with particular emphasis on the interrelations of
the seven Liberal Arts. Ted conducts his well-known annual spring
Stop Day walking tour of Mount Oread.
---
Location & Hours
Location: 1335 Valley Lane, Lawrence, KS 66044
— Valley Lane Access from University Drive, just east of Iowa Street
*** Also at this location: Shakura Jackson
Contact Info
Email: [email protected]