Printmaking.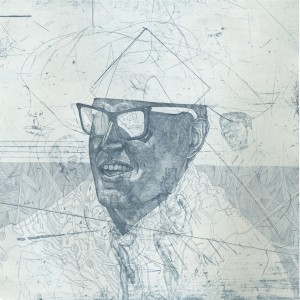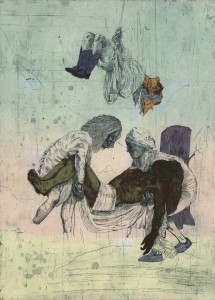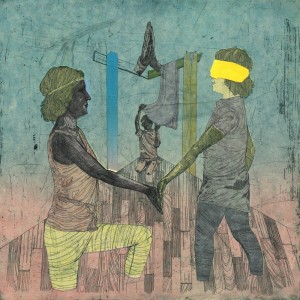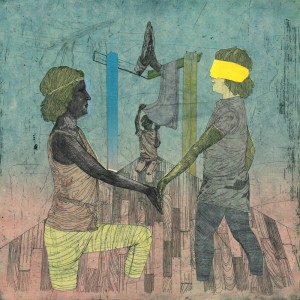 Artist Biographical Statement
Clint Ricketts is a printmaker, painter, and teacher currently living in Lawrence, Kansas. He received his MFA from the University of Kansas in 2010 and has taught design and printmaking courses at Emporia State, Washburn University and Missouri Western State University. Clint's art has been exhibited locally at galleries including The Wonder Fair, The H and R Block Art Space, The Kansas City Art Institute, and The Invisible Hand Gallery and as a participant in the Kansas City Collection. Clint's work has also been seen nationally and internationally in the publication New American Paintings and in galleries including the International Print Center of New York, OK Mountain of Austin, Texas, the Coyne Gallery of The University of Syracuse and Hongik University in Seoul, Korea.
I think I began drawing as a way to deepen my experiences of the things that fascinated me: movie monsters, comic book heroes, baseball players and bible stories. In time this practice became ritual. The resulting objects became artifacts of my own comprehension. By obsessively drawing my objects of fascination I re-appropriated their meaning to reflect my personal history. Each drawing, print or painting is constructed by searching for associations. I seek visual excitement as well as personal resonance. I see my characters acting out my personal exploration for answers. They investigate the importance of ritual, the universal, and question the unknown. They are not burdened by the need for the supernatural, but instead take part in an activity that provides comfort through human contact and shared history.
Location & Hours
Location: Art Emergency, 721 E 9th St, Lawrence, KS 66044
— Large warehouse at intersection of 9th and Delaware
—– Also at this location is George Paley, Solace Naeymi, and Justin Marable
Friday Oct. 23: Public Reception 6 – 10 pm
Saturday Oct. 24: 10 am – 6 pm
Sunday Oct. 25: noon – 6 pm